Article information
Abstract
Full Text
Bibliography
Download PDF
Statistics
Tables (4)
Table 1. Non-adjusted observational studies related to D-dimer levels and the prognosis of patients with COVID-19 disease.

Table 2. Adjusted observational studies related to D-dimer levels as independent predictor in patients with COVID-19 disease.
Table 3. Diagnostic criteria for disseminated intravascular coagulation of the ISHT.
Table 4. Studies related to the incidence of DIC and its association to the prognosis of COVID-19 disease.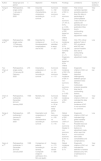 Abstract
During the new pandemic caused by SARS-CoV-2, there is short knowledge regarding the management of different disease areas, such as coagulopathy and interpretation of D-dimer levels, its association with disseminated intravascular coagulation (DIC) and controversy about the benefit of anticoagulation. Thus, a systematic review has been performed to define the role of D-dimer in the disease, the prevalence of DIC and the usefulness of anticoagulant treatment in these patients. A literature search was performed to analyze the studies of COVID-19 patients. Four recommendations were drawn based on expert opinion and scientific knowledge, according to the Grading of Recommendations Assessment, Development and Evaluation (GRADE) approach. The present review suggests the presence of higher levels of D-dimer in those with worse prognosis, there may be an overdiagnosis of DIC in the course of the disease and there is no evidence on the benefit of starting anticoagulant treatment based only on isolated laboratory data.
Keywords:
COVID-19
D-dimer
Disseminated intravascular coagulation
Anticoagulation
Resumen
Durante la nueva pandemia causada por SARS-CoV-2, existe poca evidencia en relación a varios aspectos de la enfermedad, como es el caso de la coagulopatía e interpretación de los niveles de dímero D, su asociación con coagulación intravascular diseminada (CID) y controversia en cuanto al beneficio de la anticoagulación. Por ello, se ha realizado una revisión sistemática para definir el rol del dímero D en la enfermedad, la prevalencia y valor pronóstico de la CID y la utilidad del tratamiento anticoagulante en dichos pacientes. Se realizó una búsqueda bibliográfica y análisis de la literatura sobre pacientes con COVID-19. Se elaboraron cuatro recomendaciones basadas en la opinión de expertos y en el conocimiento científico, según el sistema Grading of Recommendations Assesment, Development and Evaluation (GRADE). La presente revisión en pacientes con COVID-19 sugiere la presencia de mayores niveles de dímero D en aquellos con peor pronóstico, que puede haber un sobrediagnóstico de CID en el curso de la enfermedad y que no existe evidencia sobre el beneficio de iniciar tratamiento anticoagulante basándose únicamente en datos aislados de laboratorio.
Palabras clave:
COVID-19
Dímero D
Coagulación intravascular diseminada
Anticoagulación
Article
These are the options to access the full texts of the publication Medicina Intensiva (English Edition)