Article information
Abstract
Full Text
Bibliography
Download PDF
Statistics
Tables (4)
Table 1. Differences in the characteristics of patients at ICU admission by vital status after a 30-day follow-up.
Table 2. Differences in medical interventions in the sample as a whole and by vital status after a 30-day follow-up.
Table 3. Differences in clinical outcome between frail and non-frail patients.

Table 4. Logistic regression analysis on the association between frailty and, other characteristics of patients at ICU admission and use of ICU advanced procedures with 30-day mortality.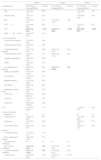 Abstract
Objective
Frailty is a relatively new concept for intensivists, and is defined as a status of increased vulnerability to stressors associated with reduced reserve and function of different physiological systems. Supporting the hypothesis that frailty may be an important predictor of poor prognosis among older patients admitted to Intensive Care Unit (ICU), this study seeks to evaluate the association between frailty at ICU admission and short and long-term mortality.
Design
An unmatched case-control study was carried out.
Setting
Intensive Care Unit.
Patients or participants
Patients≥80 years of age admitted to the ICU for medical reasons.
Interventions
None.
Main variables of interest
The primary outcome was 30-day mortality, while secondary outcomes were ICU mortality and mortality at one year.
Results
Most of the patients were classified as frail at ICU admission (55.3%). The prevalence of frailty was higher among those who died than in those who were alive within 30 days from ICU admission (62.3% vs 48.3%, p=0.01). One-year mortality was higher in frail (84.4%) than in non-frail patients (65.2%, p<0.001). In the logistic regression analysis, after adjusting for potential confounders such as chronic diseases, clinical complexity, cause of ICU admission and use of advanced procedures, frailty was seen to be significantly associated to one-year mortality, but not with ICU mortality or 30-day mortality.
Discussion
The admission of geriatric patients to the ICU is increasing. Frailty assessment may play an important role in the clinical evaluation of such individuals for triage, but should not be considered a priori as an exclusion criterion for admission.
Keywords:
Mortality
Frailty
Intensive care
Resumen
Objetivo
«Fragilidad» es un concepto relativamente nuevo para los intensivistas, y se define como un estado de mayor vulnerabilidad frente a los estresores asociados con una reducción de las reservas y del funcionamiento de distintos sistemas fisiológicos. Basándose en la hipótesis de que la fragilidad podría ser un importante factor predictivo de un mal pronóstico en pacientes ancianos ingresados en la unidad de cuidados intensivos (UCI), este estudio tenía por objeto evaluar la asociación entre la fragilidad en el momento del ingreso en la UCI y la mortalidad a corto y largo plazo.
Diseño
Estudio de casos y controles sin emparejamiento.
Ámbito
Unidad de cuidados intensivos.
Pacientes o participantes
Pacientes ≥80 años ingresados en la UCI por motivos médicos.
Intervenciones
Ninguna.
Variables de interés principales
La variable principal fue la mortalidad a 30 días, mientras que las variables secundarias fueron la mortalidad en la UCI y al cabo de un año.
Resultados
La mayoría de los pacientes se clasificaron como frágiles en el momento de su ingreso en la UCI (55,3%). La prevalencia de la fragilidad fue más alta entre quienes fallecieron que en el caso de los que seguían con vida a los 30 días de su ingreso en la UCI (62,3% frente al 48,3%; p=0,01). La mortalidad a un año fue más elevada en los pacientes frágiles (84,4%) que en los no frágiles (65,2%; p<0,001). En la regresión logística, tras el ajuste de los posibles factores de confusión, como las enfermedades crónicas, la complejidad clínica, el motivo del ingreso en la UCI y el uso de procedimientos avanzados, la fragilidad resultó estar significativamente asociada con la mortalidad a un año, pero no con la mortalidad en la UCI ni al cabo de 30 días.
Discusión
El ingreso de pacientes geriátricos en la UCI está aumentando con el paso del tiempo. La evaluación de la fragilidad podría desempeñar un papel importante en su evaluación clínica para el triaje, pero no debería considerarse a priori como un criterio de exclusión para el ingreso.
Palabras clave:
Mortalidad
Fragilidad
Cuidados intensivos
Article
These are the options to access the full texts of the publication Medicina Intensiva (English Edition)